About the Village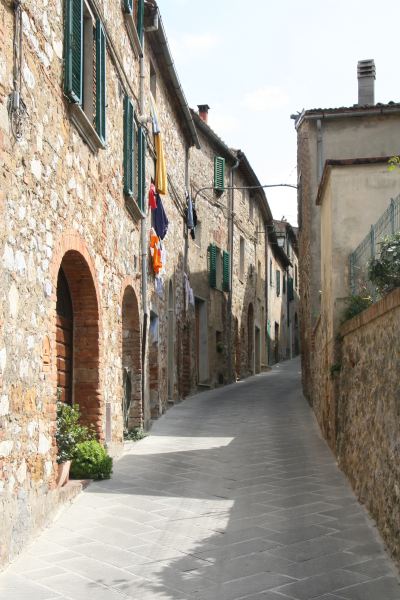 Trequanda is one of 5 hilltowns that make up Cinque Sorelle ("five sisters" in Italian), one of the best-kept secrets in Tuscany. Trequanda has 2 restaurants, a café and a new osteria specializing in local simple cuisine. Many of the Gustare al Fresco photos were taken this spring at Il Conte Matto, just down via Taverne. Also enjoy freshly cooked crepes and pizzas baked in a wood-fired oven at Café Paradiso. A bank, pharmacy, grocery store, bakery, hardware store, and one of the area's finest butcher shops combine with the famous wines and olive oils sold throughout the town to make the village an easy stay, free of your car for days at a time.
Located 20 minutes off the Autostrada A-1, 2 1/2 hours north of Rome and 1 1/2 hours south of Florence, Trequanda lies at the center of the 3 great wine regions of Tuscany; Brunello, Chianti and Vino Nobile.
Or bring the fresh local ingredients home, contact one of the area chefs for an in-home cooking lesson, and dine al fresco on your private terrace in the garden. Wineries, cheese makers and olive mills and the fall truffle festival all make this area a heartland for understanding and enjoying Tuscan cookery. Arrange guided tours of wine, food, art and everything can be provided including transportation for wonderful days of adventure, knowing that the quiet shade of the garden and the refreshing swimming pool wait at the end of the day.
Painting, sketching lessons are also available. Or spend a week learning to speak a little Italian at the Sant'Anna in Camprena language school.