The Village of Trequanda
Trequanda is a medieval hill town whose recent history is anchored by Cacciaconti Castle, built between 1100 and 1200. The castle and its remaining walls form about 1/3 of the village, giving visitors a sense of antiquity and stability.
Situated at the edge of the Crete Senesi and Val d'Orcia, two of the most celebrated landscapes in the world, Trequanda lies at the center of the three greatest wine regions of Tuscany: Brunello, Chianti and Vino Nobile.
The natural beauty of the village environs is only two hours north of Rome and about one hour south of Florence. Wineries, cheese makers, restaurants, olive mills, historical sites, museums, and art and music venues are easily accessed to make Trequanda a heartland for understanding and enjoying Italian culture. See more activities.
Two restaurants specializing in local, sumptuous cuisine, including vegan specialties, a bar/café, and a pizzeria with freshly cooked crepes and pizzas baked in a wood-fired oven.
Bank with cash machine, pharmacy, grocery store, bakery, hardware store, gas station, post office, Etruscan museum, and famous butcher shop.
Access to famous wines, olive oils, and other regional specialties for purchase.
Guided tours of wine, food, art and other excursions can be arranged, including transportation.
Quiet shade of the garden and the refreshing swimming pool at La Casa await at the end of a day's sight-seeing and excursions.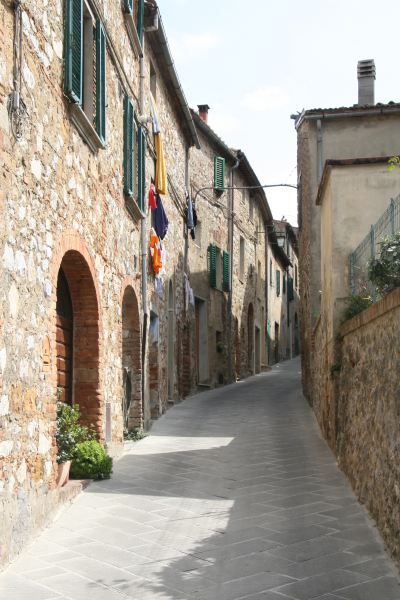 Amenities
Two fine restaurants
Bar/Café, Pizzeria
Bank with ATM, Post Office
Pharmacy, Grocery store
Hardware store, Gas station, Butcher
Museum and more
Trequanda is an ancient hill town in Tuscany. Its landscape is a living sculpture spanning Etruscan (700-100 BCE) to modern times. A castle, 600-year-old olive trees, medieval art and architecture provide an enticing experience of history.
Explore the medieval lanes, enjoy a hot air balloon ride, visit nearby hill towns, or attend one of the many local festivals. Trequanda is centrally located to easily explore many cultural and historical sites in Tuscany and Umbria.